If you have any information on Ryan's case please contact us as at:
Your support is essential in helping us obtain justice for Ryan Ferguson. With NO evidence currently against him we demand Ryan receive a new trial – or his immediate freedom.
There are many ways for you to become involved and help Ryan:

You can 'Like' the Free Ryan Ferguson Facebook page – which will provide all the latest updates on Ryan's case, campaigning efforts and messages from Ryan himself.

You can sign the Change.org petition demanding Ryan receive a new trial
Follow us on Twitter @FreeRyanFerguso
SPREAD THE WORD
Tell all your family, friends and contacts about Ryan's story. In addition Tweet your support for Ryan using the hashtag #FreeRyanFerguson
If you have any comments or suggestions regarding this website please email us at:

You can contact the office of the Governor of Missouri Jay Nixon and request that Ryan be granted a Pardon based on Actual Innocence. Please be respectful and leave your name and state (or country) – they are keeping a tally of everyone.
Governor Nixon's contact info:
Office of Governor Jay Nixon
P.O. Box 720
Jefferson City, MO 65102
Phone: 573-751-3222
http://governor.mo.gov/contact/
Twitter: @GovJayNixon
(use the hashtag #FreeRyanFerguson)
Media Inquiries:
Phone: (573) 751-0290
Email: [email protected]
In your letters explain why you believe Ryan Ferguson should be freed, how the case has personally affected you and why you will continue to support Ryan's innocence. A sample letter can be found on Ryan's Change.org petition site.
The Ferguson family is offering a [sws_highlight hlcolor="fbfac7″]$10,000 reward [/sws_highlight] for information leading to the release of their son.
We have recently launched a billboard in the Columbia, MO area with a composite sketch of one of the two men seen by Shawna Ornt on the night of the murder. Do you recognize this person? If so please contact us…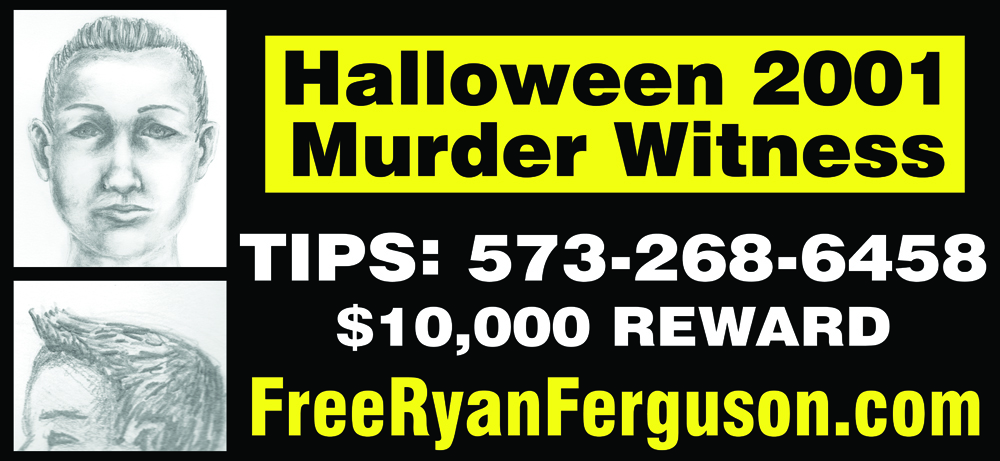 Billboard designed by Randi Juarez